Shape your online marketing strategy
Affordable websites, creative landing pages & effective email campaigns
Looking for a user-friendly new website? Or some extra marketing support to create and send your newsletters with the desired regularity?
Expertise by focus on tourism
What do you put in your digital display? How do you organize your digital store shelves? And how can you easily add and publish content yourself on an ongoing basis?
Because we focus 100% on tourism, we are continuously working on solutions for new challenges in our sector.
That is why we can advise you very concretely and help you on your way with user-friendly and affordable options.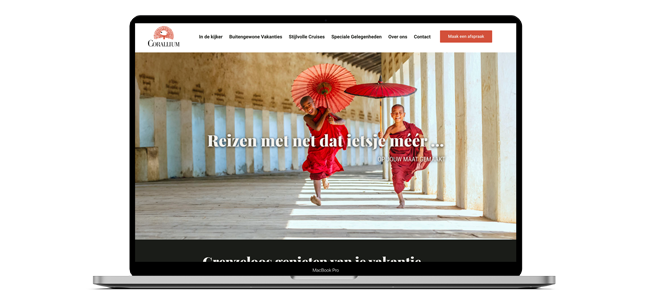 Need a ready-to-use website?
We would be happy to discuss the best approach for your project together.
A website that is adapted to your needs
and those of your customers
As a result of the corona crisis, your website is becoming more than ever an essential extension of your company. It's the way customers reach and visit you.
We integrate a user-friendly appointment system into your website, which turns your website into the digital entrance door that you link to the advantages of a personal conversation.
Website for B&B, Hotels or lodging
We can integrate your existing reservation system  into your new website. No reservation system yet? Then we ensure that your guests can contact you effortlessly.
We also provide relevant content for your website
We make your website even easier to find and more relevant for the desired target group.
Today, content is actually the most important part of your website, especially for an inspiration site. What do you put in your digital display case? How do you organize your digital store shelves? And how can you add and publish ongoing content?
Curious how your company is doing online today?
Generate Traffic, Leads & Appointments
After having a digital showcase, generating traffic is the biggest challenge.
Attract new visitors with content that matters
Not only can we fill your website, we can keep it up-to-date along with content that matters. This is how you attract new website visitors. Are you a travel agency? As we work closely with most of the leading travel providers, we also have access to the most up-to-date information that we can put on your website.
Get more returning visitors
We provide detailed landing pages with dedicated topics. By linking from your newsletter, we ensure more returning visitors.
We are also happy to help you with appropriate storytelling for your blog posts.
How we help you with your company's online communication
Want to get more leads through your website?
As a specialist in content creation and our years of experience with digital content management, we can offer two birds with one stone thanks to the open source possibilities that WordPress offers in combination with, among others, MailChimp and Facebook.
Email newsletters and social media
Hire us as an extension of your team. We ensure that your newsletters are sent out regularly. We also immediately update your website and activate your social media channels. In short, hands-on e-marketing support to the rhythm with which you actually want to communicate. This way you can spend your time with your customers.
When it comes to website hosting, we are a recognized reseller of Combell, also a Ghent company, the absolute market leader in hosting services in the Benelux and the best 24/7 support available. This way we can offer you a perfectly functioning web infrastructure with peace of mind, which grows with the needs of your company.
Wondering what the best approach is for you?